AG Neovo SX-15G SX Series Monitor de Vigilancia 4:3 de 15", Uso ininterrumpido 24/7, Compatible con Soportes VESA
Marcas:
AG Neovo
N.º ADI #:SX-15G
modelo #: SX-15G
Nombre: AG Neovo SX-15G SX Series, 15" LED 24/7 Surveillance Monitor, Landscape, VESA Mount Compatible
The 38.1 cm (15") monitor highlights XGA display with resolution up to 1024 x 768 pixels
DisplayPort interface that transmits both audio and video signals through a single connection to deliver versatile performance
300 cd/m² brightness gives an exceptional visible display for clear and consistent on-screen pictures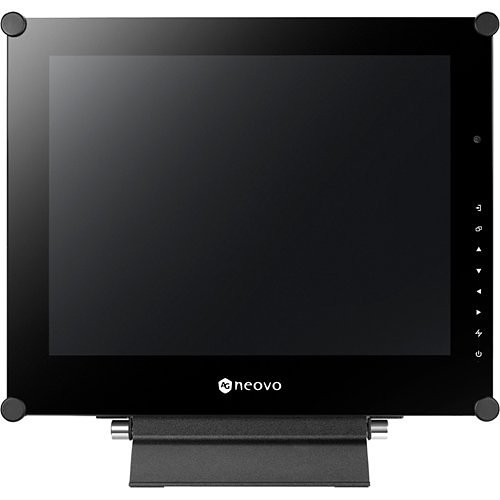 Descripción del producto
General Información
Ideal for legacy and modern surveillance applications, the SX-Series is equipped with analogue and digital connectivity as well as Composite output for video looping. Built to last and perform in 24/7 operations, it features AG Neovo's Anti-Burn-in™ technology, preventing image ghosting and ensuring professionals view the present, not the past. Coupled with NeoV™ Optical Glass and metal casing, the display is shielded from incidental damage and impact to withstand the most demanding environments. Highly versatile and compatible, the SX-Series is the optimal display solution for seamless video surveillance transition.
Industry-leading Reliability
The SX-Series is specially designed to transcend the challenge of enduring 24/7 operations. AG Neovo's Anti-Burn-in™ technology also prevents image ghosting while performing nonstop mission-critical operations. Its metal casing and NeoV™ Optical Glass not only protect the SX-Series from damage but also keep maintenance easy.
Optimised for Surveillance and Security
Built with cutting-edge super-resolution technology, the SX-Series can upscale images at a higher and more detailed resolution for better clearness. Besides, geared specifically for a surveillance control room, a user-friendly CCTV mode is pre-configured to maximise image clarity in the scenario of low light surveillance footage at night.
Highly Versatile and Compatible
The SX-Series supports multiple video input sources, from legacy video cameras to the latest HDMI and DisplayPort equipment. Its lockable Composite input and loop through Composite output make it easy to connect to other gear without the need for a splitter.
Main Features
The 38.1 cm (15") monitor highlights XGA display with resolution up to 1024 x 768 pixels
DisplayPort interface that transmits both audio and video signals through a single connection to deliver versatile performance
300 cd/m² brightness gives an exceptional visible display for clear and consistent on-screen pictures
HDMI (High Definition Multimedia Interface) offers fantastic sound/video quality and single-cable comfort
5 ms response time makes it excellent for latest action films, sports or gaming
VESA mount compatibility allows you to mount the display on a wall or with a stand depending on your specific needs
Categoría : Monitores de vídeo, Productos, Videovigilancia
Especificaciones
Información General
Fabricante
AG Neovo Technology Corporation
Información Técnica
Clase de tamaño de pantalla
Horizontal Frequency (Hz)
Vertical Viewing Angle (°)
Viewable Screen Size (mm)
Technical Information
Horizontal Viewing Angle (°)
Tecnología de iluminación de Fondo
Audio
Weight with Stand (Approximate) (g)
Cámara
Angulo de Visión Horizontal
Características físicas
Compatible con Montura VESA
Peso con soporte (Aproximado)
Display & Graphics
Energy & Performance
Operating Power Consumption (W)
Información del Producto
Tipo de Montaje
Montable en escritorio, Montaje en techo, Puede colocarse sobre el escritorio
Interfaces/Puertos
Número de puertos USB 2.0
Pantalla y gráficos
Ángulo de Visión Vertical
Potencia & rendimiento
Video
Vídeo
Índice de refresco estándar
Ratio de Contraste Dinámico
Misceláneos
Características
Anti-Burn-in Technology, Security Lock
Respetuoso del medio ambiente