STI-13100NC Tapón transparente universal, montaje en superficie
Marcas:
Safety Technology International
N.º ADI #:STI-13100NC
modelo #: STI-13100NC
Nombre: STI-13100NC Universal Stopper, Dome Cover, Surface Mount, No Label Hood or Sounder, No Marking, Clear
Indoor/outdoor polycarbonate cover
Helps protect devices against vandalism and accidental damage
Without horn, horn housing and label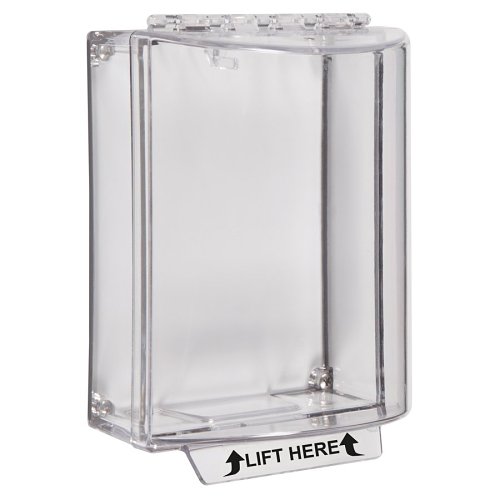 Descripción del producto
General Información
The Universal Stopper® is an indoor and outdoor, low profile or dome polycarbonate covers that protects devices such as manual call points, emergency buttons and dual action pull stations etc., without restricting legitimate operation.
The versatile cover can serve as a push button, pull station, electrical device or call point cover.
The Universal Stopper® offers excellent protection against physical damage (both accidental and intentional), dust and grime as well as harsh environments inside and out.
Mounting options 0 & 1 are designed to meet the requirements of IP54, option 6 & 7 IP56 (Sealed Mounting Plate with option 6 provides IP66 protection).
Main Features
Indoor/outdoor polycarbonate cover
Helps protect devices against vandalism and accidental damage
Without horn, horn housing and label
Surface mount
Sized to fit most Pull Stations and Call Points
High strength continuous hinge
Please note: Due to the curvature of this model, the depth stated will vary
UL/cUL, ADA Compliant
Categoría : Accesorios de Incendio, Cubiertas protectoras, Fuego, Productos
Especificaciones
Información General
Fabricante
Safety Technology International, Inc
Funciones de Producto
Enclosures & Covers, False Alarms
Nombre de Producto
Cubierta de Seguridad Universal Stopper STI-13100NC
Información Técnica
Dispositivo Compatible
Botón de emergencia, Botón Pulsar, Estación de pulsador, Interruptor eléctrico
Características físicas
Aplicación/Uso
Avisador, Exterior, Interior
Durabilidad
Resistente al DaDo/Deterioro, Resistente al polvo, Resistente al Sucio, Resistente al vandalismo
Misceláneos
Características
Montaje en superficie, Visagras
Certificaciones y Estandáres