LST RL608-1 Relay Module
Marcas:
Labor Strauss
N.º ADI #:211143
modelo #: 211143
Nombre: LST RL608-1 Relay Module
8 relay outputs with one dry contact each
Individual configuration as NC contact, NO contact or NO contact with signalling resistors
Actuation displayed by LED for each output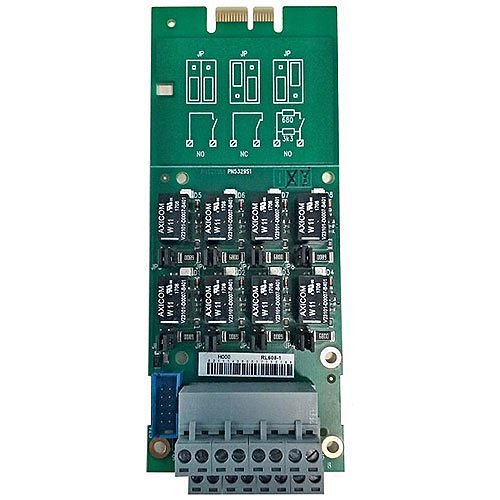 Descripción del producto
General Información
The Relay Module RL608-1 is used for the switching of loads via eight dry contacts, which can be actuated independently of each other. Depending on the application, the relay contacts can be individually configured as normally open contacts, normally closed contacts or normally open contacts with signalling resistors for the VdS extinguishing system interface. The componentry is primarily intended for installation in the backplane of a Fire Detection Control Panel Series BC600. After breaking off the section of the printed circuit board that is not equipped with components, the relay module can also be mounted on the module carrier of the BC600 or can be installed in Fire Detection Control Panels Series BC216, Series BC016 and Series BC06. Via a flat cable, the trigger inputs are connected directly to the central processing board or a function module that has open-collector outputs. The use of pluggable screw terminals for the connections makes maintenance and replacement of the componentry easier. The relay module is delivered with flat cable and mounting accessories for easy installation.
Características principales
Los LED de estado indican la comunicación de red.
Las conexiones de red están disponibles en terminales de tornillo enchufables.
Microprocesador independiente para mantener la comunicación de red incluso en caso de fallo del sistema del panel de control.
Función completa del panel de control en red en caso de rotura de un solo cable en la línea de red en forma de anillo.
Categoría : Dispositivos de Alimentación, Fuego, Productos, Relés