HID 2060PKSMN Etiqueta iCLASS 206x con dorso adhesivo, 2K/2, iCLASS programado, números iCLASS coincidentes, negro con logotipo
Marcas:
HID Global
N.º ADI #:2060PKSMN
modelo #: 2060PKSMN
Nombre: HID 2060PKSMN iCLASS 206x Tag with Adhesive Back, 2K/2, iCLASS Programmed, Matching iCLASS Numbers, Black with Logo
Provides the convenience of HID's iCLASS contactless read/write smart card technology in a small disk-shaped package.
Seamlessly upgrade from magnetic stripe, barium ferrite, or proximity technologies by adhering the Tag to an existing access card for secure access control.
Allows users to easily and cost-effectively turn a plastic ID badge or contact smart chip card into a contactless smart card.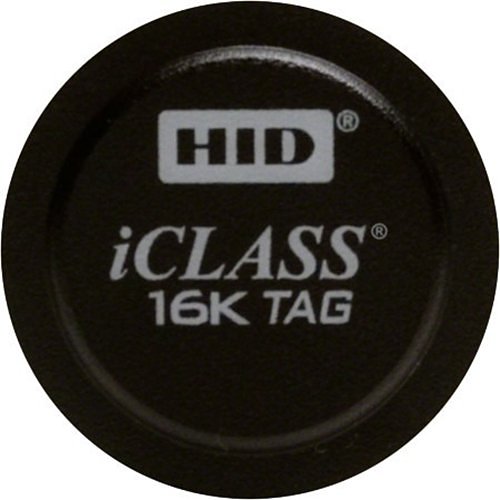 Descripción del producto
General Información
The HID iCLASS Tag can turn a plastic ID badge into an iCLASS contactless smart card credential. Effortlessly upgrade from Prox, mag stripe or barium ferrite technology to a smart card technology with more secure access control by simply attaching the small, circular iCLASS Tag to your existing card. The iCLASS Tag will also adhere to any non-metallic device, such as a cell phone or PDA, to instantly create a contactless smart card.
iCLASS was specifically designed to make access control more powerful, more versatile, and more secure. iCLASS 13.56 MHz read/write contactless smart card technology provides versatile interoperability in applications such as access control, network log-on security, cashless vending, time and attendance, event management and biometric identification.
iCLASS technology ensures high security with mutual authentication between card and reader, encrypted data transfer, and 64-bit diversified keys for read/write capabilities. Securely separated files enable multiple applications and support future growth.
Características principales
El poder de iClass en un práctico llavero de tamaño bolsillo.
La tecnología de llave inteligente iClass de lectura/escritura sin contacto de 13,56 MHz proporciona comunicaciones de alta velocidad y confiables con alta integridad de datos.
Cualquier formato HID existente se puede programar en fábrica o en el campo en el área segura de control de acceso HID.
Categoría : Control de acceso, Credenciales de Accesos, Etiquetas adhesivas de proximidad, Productos
Especificaciones
Información General
Nombre de Producto
206x iCLASS Tag with Adhesive Back
Características físicas
Garantía
Información del Producto
Diámetro de tarjeta/etiqueta inteligente
Espesor de tarjeta/etiqueta inteligente
Frecuencia de funcionamiento
Smart Card/Tag Diameter (mm)
Smart Card/Tag Thickness (mm)
TBD
Misceláneos
Características
Adhesive Backing, Programable