AXIS Q8685-E Q86 Serie, Zipstream IP66 2MP 4.3-129 mm Lente varifocal IP PTZ Cámara, blanco
Marcas:
AXIS Communications
N.º ADI #:0862-001
modelo #: 0862-001
Nombre: AXIS Q8685-E Q86 Series 1080p HDTV Outdoor PTZ 360° Pan, IP Camera, 30x Optical Zoom,White
Network camera - Helps achieve high-quality video results
CMOS sensor is cheaper as compare to CCD and consumes less power while producing better HD videos
CMOS sensor is cheaper as compare to CCD and consumes less power while producing better HD videos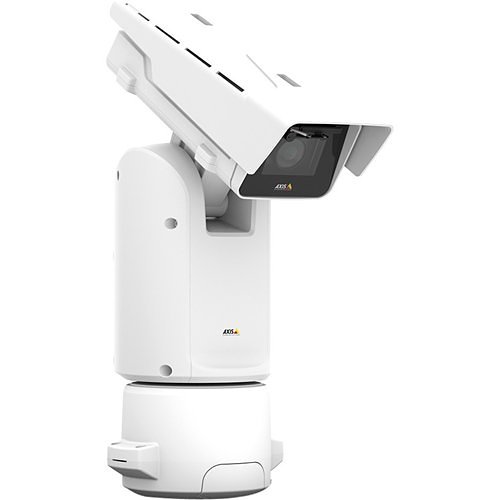 Descripción del producto
General Información
Sometimes you need a slow, steady pan. Other times it's important to be on the spot in a flash. With the responsive AXIS Q8685-E PTZ Network Camera, you set the pace for unobstructed and far-reaching surveillance of expansive outdoor areas.


Swift and smooth

AXIS Q8685-E lets operators choose between high-speed and ultra-slow pan and tilt movement - from 0.05 to 120 degrees per second. So they get smooth and jerk-free paranormic viewing when they need it and can respond quickly to events. It is capable of operating in extreme temperatures, and it can withstand hurricane-strength winds when it's in motion of up to 47-meter per second (106 mph), and winds over 60-meter per second (135 mph) when it's in motion and without sunshield.
Ground-to-sky view
The camera can be column-mounted, on poles or walls for a 360° panoramic view and a ground-to-sky view from -90° to 45°. If the need is to tilt upwards, up to 90°, this can be achieved by mounting the camera housing in an inverted configuration on the positioning unit. The inverted configuration gives a tilt range of -45° to 90°.
Far and wide

With 30x optical zoom and superb pan and tilt capabilities, AXIS Q8685-E delivers long-distance identification and the widest possible field of view in every direction. It has Wide Dynamic Range - Forensic Capture for clarity and detail in scenes with both dark and light areas. And it has Focus recall for instant focus in areas you define. In addition, AXIS Q8685-E will also automatically zoom in on objects detected in pre-defined areas thanks to Advanced Gatekeeper. And AXIS Radar Autotracking for PTZ provides automatic tracking of detected objects. In addition, white LED and illuminator bracket are also available. They can be used to further enhance performance - or as deterrence when used in combination with analytics software that turns them on in response to intruders entering a restricted area.
Operate with total confidence

AXIS Q8685-E's slim design and many available accessories let you install it anywhere you want. The camera is specially designed to be reliable, robust and weatherproof in diverse conditions. It features SFP slots for cost-effective network connection over long distances. When both the Ethernet and fiber-optic cables are connected, the cameras can be set up in failover mode to create a redundant network link or in daisy-chain mode for connecting multiple devices in sequence.
Características principales
Escuche su música favorita y disfrute de un gran sonido con el sistema de altavoces AXIS C1004-E
Incorpora un subwoofer activo para conseguir tonos potentes y retumbantes
Reproduce música directamente desde tu microSDHC
Categoría : Cámaras de seguridad PTZ, Cámaras IP, Productos, Videovigilancia
Especificaciones
Información Técnica
Maximum Focal Length (mm)
Resolución efectiva de cámara
Almacenamiento
Cámara
Tecnología de conectividad
Características físicas
Category Specific Attributes
Minimum Focal Length (mm)
Garantía
Información del Producto
Tipo de Montaje
Montaje de pared, Montaje en esquina, Montaje en poste
Interfaces/Puertos
Lente
Pantalla y gráficos
Effective Camera Resolution (Pixel)
Resolución Máxima de Video
Redes y Comunicaciones
Vídeo
Misceláneos
Contenido de la Caja
Q8685-E PTZ Network Camera
Installation Guide
Windows Decoder 1-User License
Power Connector
I/O Connector
Torx® Bits T20 And T30