Avigilon Unity 2.0C-H5A-DC1-IR Serie H5A 2Mpx WDR IP66 Cámara IP Domo IR 35M, 3.3-9mm Lente Varifocal, Blanca
Marcas:
Avigilon Unity
N.º ADI #:2.0C-H5A-DC1-IR
modelo #: 2.0C-H5A-DC1-IR
Nombre: Avigilon Unity H5A-DC H5A Series IP66 2MP , IR 35M IP Dome Camera, 3.3-9mm Varifocal Lens, WDR, White
Up to 35 m of night vision
CMOS sensor is cheaper as compare to CCD and consumes less power while producing better HD videos
Up to 1920 x 1080 video resolution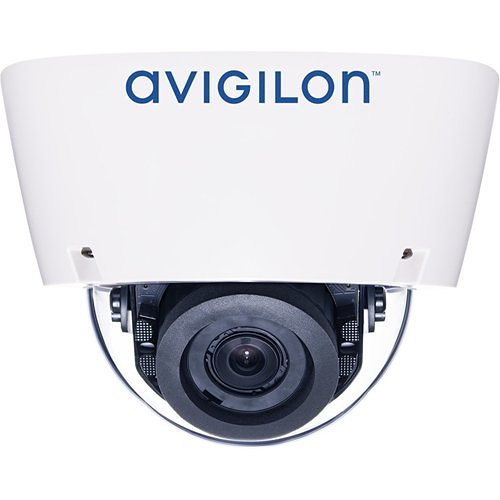 Descripción del producto
General Información
The H5A camera line features our next-generation video analytics technology to help focus your attention on potentially critical events, providing a smarter and more powerful video security solution from the moment you set it up.
Advanced Object Detection
Offers more reliable detection of up to 50 objects in the scene, even if they are stationary, helping to alert you of important events that are happening within your facility.
Características principales
Adaptive IR ajusta automáticamente el ancho del haz de IR y los ajustes de exposición en función de las condiciones de la escena para ayudar a maximizar la calidad de imagen.
El sensor CMOS es más barato en comparación con el CCD y consume menos energía mientras produce mejores videos en HD.
Hasta 1920 x 1080 de resolución de video.
Ranura de almacenamiento expansible para memoria SD o MicroSD evita la pérdida de vídeo grabado durante interrupciones de red o del servidor.
Cifrado certificado FIPS 140-2: Permite que la cámara sea implementada en sitios que requieren criptografía compatible con FIPS.
Tecnología de Gestión de Transmisión de Alta Definición (HDSM): Proporciona el máximo detalle de imagen mientras minimiza el uso del ancho de banda, ayudando a mantener bajos los costos de conectividad a Internet.
High-Efficiency Video Coding Combines HEVC/H.265 video compression with HDSM SmartCodec™ technology to substantially reduce storage and bandwidth requirements while maintaining exceptional image quality
Iluminadores IR integrados*: Los LEDs IR integrados proporcionan una iluminación uniforme, incluso en completa oscuridad.
Compatibilidad de Reconocimiento de Placas de Matrícula Funciona con el software ACC™ para capturar placas de matrícula con precisión a diferentes distancias y velocidades.
Categoría : Cámaras domo, Cámaras IP, Productos, Videovigilancia
Especificaciones
Información Técnica
Campo de Visión
(16:9) 34°-99°, (16:9) 18°-53°
Maximum Focal Length (mm)
Resolución efectiva de cámara
Almacenamiento
Cámara
Distancia de visión nocturna
Night Vision Distance (mm)
Tecnología de conectividad
Características físicas
Durabilidad
Resistente a la alteración
Category Specific Attributes
Minimum Focal Length (mm)
Condiciones Ambientales
Humedad de Funcionamiento
Maximum Operating Temperature (°F)
Minimum Operating Temperature (°F)
Temperatura Máxima de Funcionamiento
Temperatura Mínima de Funcionamiento
Descripción de la Alimentación
Exposición
Velocidad de Obturación Larga
Velocidad de obturación mas corta