AXIS TU1001-VE Micrófono Exterior para Dispositivos de Red
Marcas:
AXIS Communications
N.º ADI #:02269-001
modelo #: 02269-001
Nombre: AXIS TU1001-VE Outdoor Microphone for Network Devices
Outdoor-ready
Robust, IK10-rated
Weatherproof, IP66-rated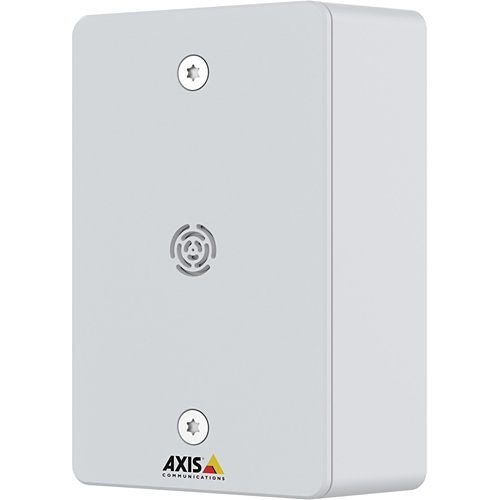 Descripción del producto
General Información
AXIS TU1001-VE Microphone is a robust outdoor-ready microphone. It's vandal-proof and IK66-rated. The microphone needs to be connected to a network device with support for audio-in 3.5mm jack, such as a camera, an audio module or an audio bridge. AXIS TU1001-VE can be wall or ceiling mounted and it's possible to attach conduits using an AXIS ACI Conduit Adapter.
Características principales
Extremadamente pequeña y discreta: 45 x 45 x 23 mm (1,8 x 1,8 x 0,9 pulgadas)
Liviana - sólo 40 g (0.09 lb.)
Mismo rendimiento óptico que AXIS W100
Soporte magnético flexible
Para usar con AXIS W100.
Categoría : Comunicaciones, Comunicaciones de negocios, Micrófonos, Productos
Especificaciones
Información General
Información Técnica
Maximum Frequency Response (Hz)
Minimum Frequency Response (Hz)
Audio
Respuesta de frecuencia máxima
Respuesta de frecuencia mín.
Cámara
Tecnología de conectividad
Características físicas
Garantía
Información del Producto
Misceláneos
Contenido de la Caja
TU1001-VE Microphone
Installation guide
Cable gasket M16 3 mm